Beyond the COVID-19 pandemic last year 2020 period that opened up lots of churches to supporting the less privileged with various palliative items, Christ Disciples International Prophetic Church,  (CDIPC), Idimu, Lagos, continues uplifting the less privileged from lack with free food items and free medicare support every last Saturday of the month.
The monthly gospel of compassion of the prophetic church on the platform of My Door Must Open Life Imparting Foundation, which holds at the church headquarters at Ogidan street, off Alake Bus stop, Ikotun-Idimu Road, Idimu, Lagos, from 7am-10am every last Saturday of the month, has been cushioning the effects of hunger in the lives of the needy due to the present socio-economic challenges in Nigeria.
Pastor Favour Olu Lajuwomi, the General Overseer of the church explained to Christian Benefits that the monthly My Door Must Open Life Imparting Foundation was an evangelistic and imparting outreach to the needy in the society to give them life, hope and salvation in the present socio-economic downturn in Nigeria.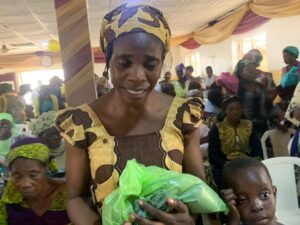 "My  Door Must Open Life Imparting Foundation commenced last April 2021 with donations from well meaning individuals in Nigeria, United Kingdom and United states.  We package and give raw food items and Medicare support to to people from all walks of life, especially the needy. We are moved by donations we received in support of this gospel of compassion arm of our ministry called My Door Must Open Life Imparting Ministry. All the hands of the donors will continually be lifted. We need more support for the help ministry," the cleric said.
Evang. Anna Towobola, the coordinator of the monthly charity outreach solicits both financial and material supports from well meaning individuals, bodies and organizations in reaching to more of the needy in the society. "We still need to buy more few things. We will appreciate your donation which will help us gladden the hearts of the needy. God loves cheerful givers. We will appreciate you support s we need to support more people. Proverbs 22:9 says, "He who is generous will be blessed. For he gives some of his food to the poor," Towobola appealed.
The ministry solicits financial support to the outreach to this account details:
My Door Must Open
First Bank 2032470206 or Contact: Evang. Victor Towobola: +2348023160786