The convener of Women for Christ Kingdom Network, Apostle Mrs. Blessing Norbert, has appealed to the women wings of both the Christian Association of Nigeria (CAN) and the Pentecostal Fellowship Nigeria (PFN) to arise in prayers to save Nigeria from the spate of gruesome killings, kidnappings and other horrible situations happening cross the nation for the sake of their children and husbands. In the below interview with Christian Benefits shortly after the second national prayer for Nigeria recently organized by her network in Lagos, Norbert says at a time like this the CAN/PFN women should focus on intercessory prayers to rescue Nigeria instead teaching women how to romantically satisfy their husbands in bed and other mundane teachings in the face of a drifting nation. Excerpts
Please, can we meet you ma?
I am Apostle Blessing Norbert, convener/leader of Women for Christ Kingdom Network. The ministry is about 15 years in existence now. God called me to raise for him a new generation of kingdom-focused women; that is women that are sold out for God. We formerly started as Triumphant Women until one fateful day the spirit of the Lord came heavily on me that I should raise God's kingdom women for Christ.
Before the call, please tell us about your background and upbringing
I am from Abia state. I am the first daughter of my parents in a family of seven. I was born and brought up in Kano. I had my primary, secondary and tertiary education in Kano before I moved down to Lagos. I am a chorister, so one of the things that I quickly did when I got to Lagos was to join a ministry. My now late father was a choirmaster and an elder in The Apostolic Faith Church of Jesus Christ. I came from a very strong Christian home. I grew up as a chorister under the tutelage of my father. I left Kano for Lagos because of prevailing insecurity challenges in Kano, which unfortunately is now prevalent all over the country.
How was it like coming to Lagos state to settle down in the state?
On the permission of my father I left Kano for Lagos to live with my brother. As I said earlier when I got to Lagos, immediately I joined a ministry to continue my service as a chorister in that ministry. From there I met my husband, who is now late. We got married on December 11, 1999. We started a ministry, New Life Power Church, which was doing very well until my husband's transition to glory.
Aside your raising in a Christian home, tell us about your rebirth encounter
I must say that what is driving me, keeping me alive and the strength I am enjoying today is as a result of my personal encounter with Christ. Before I came to Lagos I had given my life to Christ in 1995 at New Generation Bible Church, Kano under the recently late Bishop Elomolor. But I didn't become fully recreated until I was seriously ill after I came to Lagos. My brother took me to severally place but the cause of that illness couldn't be traced until one man took me to a certain prophet; now late. The prophet encouraged me to do what the Lord instructed him to tell me to do. In the cause of the prayer that the prophet instructed me I had an encounter that completely transformed my life. I had this particular encounter in 1997.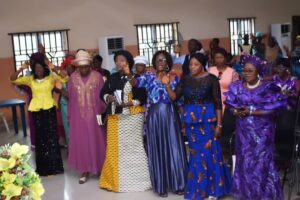 Apostle Blessing Norbert with some members of Women for Christ Kingdom Network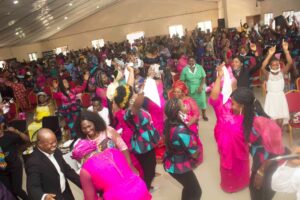 Members of Women of Christ Kingdom Network in one of their programmes
Now, what is God's specific mandate to Women for Christ kingdom Network?
As I said earlier, the specific mandate is to raise a new generation of kingdom-focused women, teaching them practical truth of God's word and demonstration of God's love to one another. It is an outreach ministry. Our passion is making Jesus popular through reaching out to women and the unreached across nations.
What are some of the activities of the ministry in line with this mandate?
One of the regular activities of the ministry in line with its mandate is our monthly fellowship. It is our worship &prayer time every third Saturday of the month. We hold our annual Women's Day celebration in March every year. We hold Women in Ministry Forum quarterly where we teach women in ministry ministerial ethics, composure, ministry location, self-discovery and self-branding to look what they preach. Our National Prayer for the Nation was birthed last year when God told me, organize a national prayer for Nigeria and gather women to pray for the nation. We held our first national prayer for the nation last year. I didn't intend to do it again until God started revealing so many things to me about the state of our nation and the burden to pray for the nation increased upon us to hold the national prayer for the nation again. This led to holding our second national prayer for the nation last June 18, 2022. We have now put it our calendar as a monthly programme.
What are your main concerns about the nation that calls for national prayer?
Our main concern is the spate of killings and kidnapping among other insecurity challenges happening across Nigeria One thing about Nigerians is we know how to manage our sufferings. Every Nigerian is going through one challenges or the other and we know how to manage our challenges. The prices of goods and services are daily increasing in the nation, yet we don't react to that. Instead, we intensify in hard labour to ensure we still feed our children. But we can't manage or keep quite at the killings and kidnappings happening daily in the country. Whenever I hear of yet another killing in the country my heart bleeds. I can't watch the videos of the killings of people across the nation being shared on the internet. When I saw the video of that young lady and student, Deborah, killed in Sokoto my blood pressure rose. It was a shock! I can't stand the gruesome killings of people in this country. (Continues)