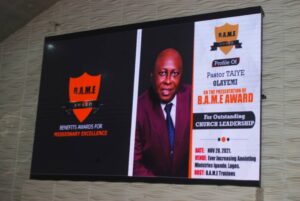 The sterling leadership endowment of Pastor Taiye Emmanuel Olayemi was greeted with standing ovation as he received last Sunday November 28, 2021, the 2021 Benefits Awards for Missionary Excellence (BAME) in recognition of his outstanding leadership quality as General Overseer of Ever Increasing Anointing Ministries international and President of Prophetic Eagle Ministers Summit.
The award presentation ceremony held at the International headquarters of Ever Increasing Anointing Ministries Int'l, Igando, Lagos, was organized by Christian Benefits Media Ministry to appreciate the grace of quality leadership of Olayemi who was roundly applauded by the huge congregation as he received the award.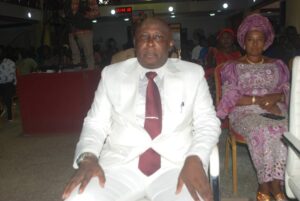 Dr. Wole Olarinde, BAME executive director, in his introduction of the yearly honors, said BAME Awards was instituted in 2006 for recognition of outstanding performances of individuals and ministries in the spread of the gospel of Christ. He explained that the yearly BAME Awards is given in six different categories as follows: Christian Music, Christian Drama, Christian Charity, Christian Service, Christian Literature and Christian Entrepreneurship. He said over 60 individuals and ministries have received the BAME honors across the six categories since its inaugural presentation in 2006 at the Bible Guest House, Palm Grove, Lagos.
Olarinde then explained how the BAME Trustees headed by Rev. Tony Akinyemi arrived at Olayemi's nomination for the 2021 BAME Awards for Christian Service. "BAME Awards was instituted in 2006 and it is managed by a board of trustees with Rev. Tony Akinyemi as chairman. Rev Tony Akinyemi succeeded the pioneer chairman, Rev. Mrs. Yeside Staveley two years ago. Other trustees of the awards are Dr. Elishamma Ideh, Pastor Ayo Ayolola, Pastor Wole Oladiyun, Pastor Phillip Iginijesu, Pastor Taiye Olayemi and with my humble self as BAME executive director, Mrs. Funmi Olarinde as BAME administrator and Mrs. Tope Oginni as BAME executive secretary.  As the executive director I studied Pastor Olayemi for close to five years. Like Cornelius I sneaked into special programmes of his church and the conferences of his Prophetic Eagle Ministers Forum for the purpose of studying him and his ministry apart from participating at the meetings.
"I took studious and serious notes about his personality, his teachings and sermons, the doctrinal beliefs of his church assembly and his interaction with his church members and fellow ministers in the course of my close to five years studying him. And I discovered a man who is deeply rooted in the word of God. I discovered a man who is very sound in the word of God. I discovered a man who lives the word of God. I discovered a man who teaches and preaches the word of God with simplicity. Eventually, fate brought us together when someone recommended me to him to edit his books. And by the grace of God I edited his last three books in one year. This afforded me more opportunity to have a deeper insight about him.
"A person is truly known by the kind of books he reads and by the contents of the books he writes. My editorship of Pastor Olayemi's last three books gave me a wider picture of his person, and couple with his leadership prowess I had gleaned from his meetings, I was impressed to introduce him to the BAME Trustees for nomination for the 2021 BAME Awards. And without much ado the Board approved and accepted Pastor Olayemi's nomination for the 2021 BAME Award.
"In addition because of Pastor Taiye Olayemi's sterling leadership quality I also recommended him to the Board to replace the late Bishop Abiodun Olugbenro, who transited to glory four years, on the board as a trustee of the BAME Awards. Therefore, on behalf of the BAME trustees I present to you, Pastor Taiye Emmauel Olayemi for the 2021 BAME Awards for Church leadership," the BAME executive director explained.
In his brief citation read by BAME executive secretary, Tope Oginni, shortly after Olayemi's decoration with the 2021 BAME Award medal by BAME administrator, Funmi Olarinde, it was revealed that Pastor Olayemi is endued with a sterling leadership quality, sound and holistic teaching of the scriptures. The Kogi state-born preacher was described as an in-depth teacher of the gospel, an insightful televangelist and a cerebral evangelist who uses different platforms of mass media to teach the scriptures with the sole aim of soul winning into God's kingdom.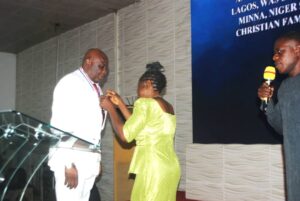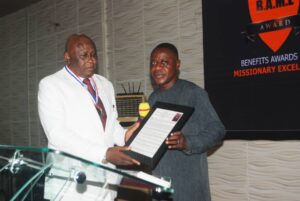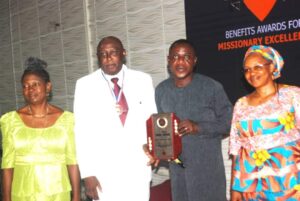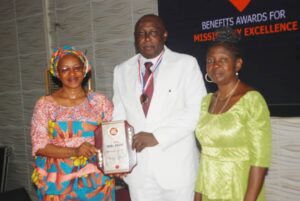 "Olayemi is also a prolific author, writer, and publisher with several quality books, journals and periodicals to his credit. Some of his book titles include Dynamics of Thanksgiving, Power of the Cross, Fire Revolution and others; teaching and preaching the Word of God with prophetic insight in the power of the Holy Ghost.
He a seasoned man of God with a unique mandate to release men into their God- ordained prosperity through conscious holy living. He deploys his sterling leadership quality as President, Prophetic Eagles Ministers Forum, Chairman, Board of Envoys College of Theology & Christian Education and Trustee of Benefits Awards for Missionary Excellent (BAME). He is a responsible family man with God-loving children," the citation concludes as the congregation gives a rousing applause with standing ovation to the University of Maiduguri graduate.
In his remark, Pastor Olayemi appreciated the organizers of the award bestowed on him just as he dedicated the award to the entire pastorate and members of Ever Increasing Anointing Ministries International. His word: "I thank the organizers of this award for identifying the grace of God upon my life and the little work we are doing at this small corner with the 2021 BAME Award they have presented to us.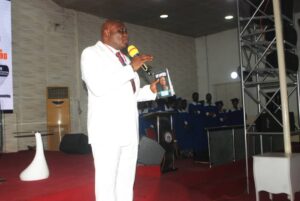 "I am highly impressed by the consistency, honesty and sincerity of Christian Benefits magazine, the organizers of the BAME annual awards. I am particularly impressed that they did not ask one kobo from us for the award. I have turned down several awards from big organizations locally and international asking us to pay fees to receive their awards. But When I receive the BAME award nomination they did not ask us to pay even one kobo to receive the award. I was impressed,
"I also accepted the nomination when I saw the calibre of reputable ministers of God with substance and integrity that have received the BAME awards since 2006. I am highly impressed with the consistency, sincerity, integrity, honesty and selflessness of the BAME organizers. I am very proud to associate and identify with Dr. Wole Olarinde and Christian Benefits ministry. I'm also humbled by my appointment as a trustee of BAME. I'm very grateful. By the grace of God, we will contribute our quota towards taking the ministry to the next level." Olayemi assured.
The amiable preacher rounded his remark with dedication of his BAME Award to his church members. "This award is for you. I dedicate my BAME award to the entire pastorate and members of Ever Increasing Anointing Ministries Int'l. This honor is for you. Without you church members there is no church. So I dedicate this prestigious award to the ministers and members of Ever Increasing Anointing Ministries International," the appreciative and elated Olayemi expressed.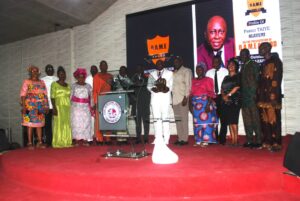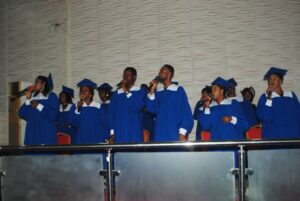 Pastor Taiye Emmanuel Olayemi, the General Overseer of Ever Increasing Anointing Ministries Int'l, Igando, Lagos, was born over 60 years ago in Minna, Niger state, into a devout Christian family from Kogi state. His mother was a staunch member of Christ Apostolic Church (C.A.C), and it was through her that Christ Apostolic Church (C.A.C) spread widely to several communities in Maiduguri, Borno State.
Olayemi had both his primary and secondary education in Borno state and Gongola state (now Adamawa state). He furthered his education at University of Maiduguri, Borno state, where he bagged Bachelor of Science in Sociology in 1988. After his National Youth Service Corps (NYSC) programme at Ikole Ekiti, Ekiti state in1988/89, he worked at now defunct People's Bank at Isanlu in Kogi state from 1990-1991. After he left the bank, he moved to Ilorin, Kwara state and continued life as a Kabukabu driver with the Peugeot car he inherited from his late father. Olayemi ran the kabukabu transport business taking passengers between Ilorin and Osogbo to irk a living. It was in the course of one of his trips back to Ilorin that he heard the voice of God (calling him to go preach the gospel) at a spot close to Ajase Epo along the Ilorin-Osogbo route. It was this voice that eventually birthed Ever Increasing Anointing Ministries international in Lagos 26 years ago after Olayemi had previously served as prayer leader and minister in two other ministries in kogi and Lagos states.