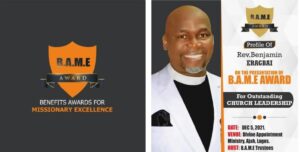 The stage is now set for the presentation of the 2021 Benefits Awards for Missionary Excellence (BAME Award) to Rev. Benjamin Eragbai, Founder/General Overseer, Divine Appointment Ministry International (DAMI) for Christian Service in recognition of the outstanding impact of his popular quarterly evangelistic city-wide crusade outreach, War Against Spiritual Manipulations, at the National Stadium, Surulere, Lagos.
The award presentation holds tomorrow Sunday December 5, 2021 at the magnificent international headquarters of Divine Appointment Ministry International (DAMI), Ajah, Lagos . Below is the impressive profile of the amiable man of God, Rev. Ben Eragbai, fondly called Jesus Soldier.
PROFILE OF REV. BEN ERAGBAI (a.k.a Jesus Soldier)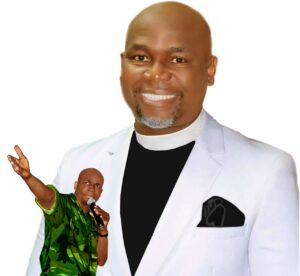 Rev. Ben Eragbai, popularly known as the Jesus soldier, is the General Overseer of Divine Appointment Ministry, Lagos and the Convener of the famous evangelistic crusade, War Against Satanic Manipulations at the National stadium, Lagos.
Born 57 years ago in the ancient city of Benin, Edo State into a humble family, Ben Eragbai spent his early years in the barracks under the guidance of his sister's husband. His early life was characterized by movement from one place to another due to frequent transfers of his army officer brother-in-law by the Nigerian army.
After his primary and secondary education, Ben proceeded to the University of Benin where he obtained his first degree in physical education. Whist he was in the university, Ben was an ardent follower of the now late Afro beat king, Fela Anikulapo kuti. He often traveled from the university to Fela shrine in Lagos and indulged in marijuana smoking with other Fela faithful until Jesus arrested him.
Ben had a turning point from a marijuana smoker to a follower of Jesus Christ in the 80s when he had an encounter with the Lord at a crusade organized in Benin by the legendary Archbishop Benson Idahosa of blessed memory. Although after this encounter, Ben had unsteady walk with the Lord, but a seed had been sowed and which later grown to Rev. Ben Eragbai as a reputable preacher of the gospel today.
Rev. Ben Eragbai had both his spiritual and ministerial tutelage under the respected preacher and the immediate past national president of the Pentecostal Fellowship of Nigeria (PFN), Rev. Dr. Felix Omobude at the New Covenant Bible Church. Ben meticulously served at the New Covenant Bible Church to the peak as the Senior Pastor of the Lagos branch of the church before he moved on by the leading of the Holy Spirit and founded Divine Appointment Ministry Int'l (DAMI), Lagos.
Rev. Ben Eragbai is a man of God with an apostolic mandate, a reputable integrity and an unquestionable character. Apart from been the Founder/General Overseer of Divine Appointment Ministry Int'l, whose magnificent headquarters is at the heart of Ajah in Lagos, the multi-gifted and multi-graced Benin-born preacher is also the Executive Producer/Principal Host of Divine Power; a television broadcast aired nationwide and internationally and the Author/ Publisher of a famous Devotional.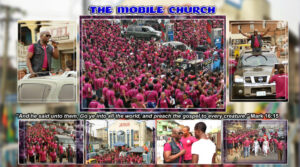 Beyond the ecclesiastical, the amiable Rev. Ben Eragbai is also a social reformer. He runs a special rehabilitation outreach to areas boys & girls, street urchins, drugs addicts and destitute. Through this outreach he has raised several areas boys as pastors and founders of ministries. Rev. Eragbai's Divine Appointment Ministry Int'l is also committed to corporate social responsibility (CSR) with the provision of free water supply, PHCN transformer and other social amenities to the residents of Adegboyega Street and its environs at the Ilupeju former headquarters of Divine Appointment Ministry Int'l. And As a patriotic Nigerian, Rev. Ben Eragbai yearly organizes a special Independent Day Prayer for Nigeria every October 1, and also organizes street rallies to promote patriotism among Nigerian citizenry.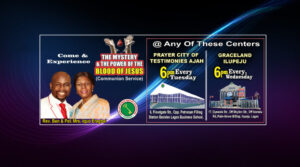 What may be considered as the flagship of Ben Eragbai ministries is his famous quarterly city-wide evangelistic crusade, War Against Spiritual manipulations at the National Stadium, Lagos. In one night this popular city-wide crusade attracts a multitude of attendants and miracle seekers from all walks of life, and with healing and deliverance among other miracles, signs and wonders being recorded. Despite his high ministerial pedigree Eragbai's passion for evangelism still sees him go on regular street evangelism with his famous cache: He that winneth a soul is wise!
 Rev. Ben Eragbai, who enjoys an intimate father-son relationship with most fathers of Christian faith in Nigeria, is an author of several bestselling books, a lover of God, a philanthropist, a multi-gifted international and motivational speaker, a Bible expositor with a special revelational insight into God's engrafted word. He is married to Iquo Ima Eragbai; also a Minister. They are blessed with good children.