Bible and science teacher, Pastor Olugbemiga Odunlami recently clocked 63 years. In the below interview with Christian Benefits on his upbringing and his thoughts on clocking 63, the set man of Jesus Christ Living Church of God, Lagos, reveals a list of notable ministers of God whom he appreciates for their various and tremendous impacts in diverse forms in the journey of his life at 63. Excerpts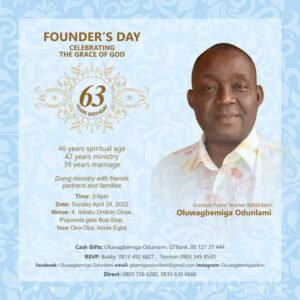 Congratulations on your recent 63rd birthday anniversary. Please, can we meet you sir?
Thank you for your felicitation. I'm Oluwagbemiga Odunlami from Ijebu Isonyin in Ogun state. I am Bible and Science teacher and pastor
How does it feel clocking 63rd on earth?
By God's grace I feel good mentally, physical and spiritually clocking 63 on earth
What are you most grateful to God for at 63?
I'm very grateful to God for feeling well, happily married with children and grandchildren and for doing what He sent me to the world to do; fulfilling my destiny.
Can we have a look at your background and upbringing?
I was born the second child in a family of 10. I lived all my life in Lagos. I attended U.N.A Primary school from 1967 to 1972, The Apostolic Church Grammar school from 1972 to 1976, before obtaining a diploma in Telegraph &Telecommunication Engineering from NITEL Training School, Oshodi, Lagos.
Share with us some of your fond childhood memories.
One of my childhood memories was the death of my father in 1970 at 39 years old while my mother was due for delivery of a set of twins the following year.
How will you describe the kind of upbringing your parents gave to you?
My father was not religious. He attended church service once a year. He lived a very quiet, peaceful and reserved life. But my mom also of blessed memory was very religious like her father. They both gave me the spirit to love going to church. However, it was one of my uncles that led me to accepting Christ as my personal Lord and saviour. Today, I regard myself as an authority in some biblical subjects.
To what extent will you say this upbringing has imparted your life at 63?
It has greatly imparted my life at 63 years old. Today, I'm the Set man/Founder of Jesus Christ Living Church of God (JCLCG), President of Bible Science Foundation (BSF) and Coordinator of Believers In Christ Fellowship (BICF).
Who are the people you consider as great influence in your life at 63?
The list of the people, mostly ministers of God who have greatly influenced my life is long. The list includes Rev. Franklin Hall of the Hall Deliverance Foundation, Phoenix Arizona,  Rev. Peter Kayode Omole of Full Salvation Church, Lagos, Rev. Olumide Emmanuel of Calvary Bible Church, Archbishop Andrew Benson Idahosa- Church of God Mission, Pastor Williams Folorunsho Kumuyi,  Pastor Enoch Adejare Adeboye, Rev. Oral Roberts, Rev. Kenneth Hagins, Rev. Kathryn Khulman, Rev. Abraham Akinola. Bisho.pAbraham Olaleye, Bishop Nathaniel Osayemi Adekolu,  Rev. Tunde Shoyemi, Rev. James O. James, Bishop Moses Alabi Idris, Rev. Olu Johnson Oyekunbi, Rev. Sam Adeyemi, Rev. T. L. Osborne, Rev. Ayodele Oritsejafor,  Rev. William Mariam Branham, Evang. Polycarp Obinna, Rev. Mrs Nnogo Veronica, Pastor Charles Abu and my wife. I'm very grateful to them for their various tremendous impacts in my life in diverse forms.