The Benefits Awards for Missionary Excellence (abbreviated BAME Awards) was instituted in 2006 by Christian Benefits magazine for recognition of outstanding Christian works with a view at encouraging excellent performance in Christian missions or ministries towards the spread of the Gospel of our Lord Jesus Christ.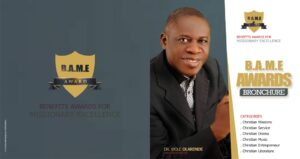 The BAME Awards is yearly presented to outstanding individuals and ministries in six different categories of Christian missions or ministries as follows:
Christian Music
Christian Drama
Christian Charity
Christian Service
Christian Literature
Christian Entrepreneurship
The BAME awards inaugural presentation was held in 2006 at The Bible Guest House, Palm groove, Lagos with the following people as recipients of the maiden BAME awards.
Christian Charity
Evang. Elishamma Ideh (Christ The Ever Present Ministry, CTEM)
Evang. Blessing Jibuike ( Support Missionary Agency, SUMA)
Rev. Mrs. Dele George (Little Saints Orphanage)
Mrs. Taiwo Olowoyeye (Bethlehem Orphanage)
Mrs. Gift John (The Good Shepherd Orphanage)
Christian Service
Bishop Moses Obaladele (Then PFN National General Secretary)
Bishop Abiodun Olugbenro (Mountain of Solution Ministries Int'l)
Rev.  Yeside Staveley ( Eagles Height Church)
Rev. Tony Akinyemi (The Shepherd's Flock Int'l Church)
Prophet T.A Aboluwarin (C.A.C Agbala Adura)
Rev. David Adetiloye (The End Time Army Church)
Rev.  David Oyediran (Glorious Vision Church)
Lady Evang. Deborah Abosede (C.A.C Oke Itura)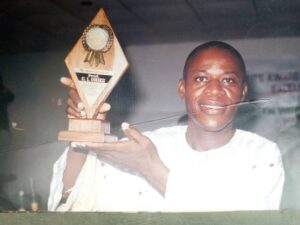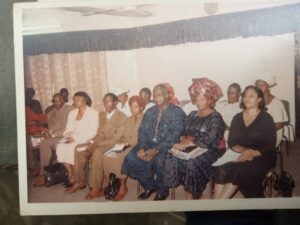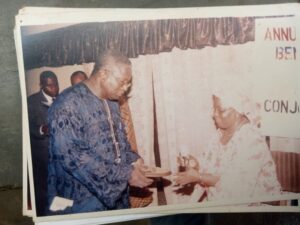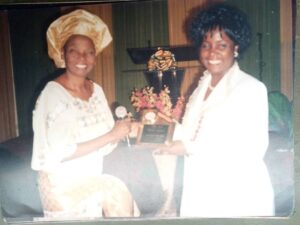 Shortly after the BAME awards maiden presentation in 2006, a Board of Trustees was constituted to oversee and manage the awards process, nomination and selection. All the Trustees are Associate Directors of Christian Benefits magazine since 2004, and they are as follows:
Rev. Yeside Staveley (Chairperson)
Rev. Tony Akinyemi
Apostle Elishama Ideh
Bishop Abiodun Olugbenro
Bro. Wole Olarinde (Executive Director)
Sister Funmi Olarinde (Executive Secretary)
Pastor Ayo Ayolola (joined the Board in 2007)
Rev. Yeside Staveley, the pioneer chairperson of BAME Trustees, who also doubled as Chairperson, Board of Associate Directors of Christian Benefits (2004-2020), on attaining 70 years old resigned as chairperson of both Boards on the 20th Anniversary of Christian Benefits magazine in 2020. She was succeeded by Rev. Tony Akinyemi as Chairman of the Associate Directors and the BAME Trustees.
While we lost one of the board members, Bishop Abiodun Olugbenro in 2016, Rev. Tony Akinyemi, Evang. Elishama Ideh, Pastor Ayo Ayolola and Wole & Funmi Olarinde retain their positions on the boards and Pastor Phillip Igbinijesu, Apostle Wole Oladiyun, Pastor Taiye Olayemi and Mrs. Tope Oginni were later added as new members of the two boards (Associate Directors and BAME Trustees).
Function of BAME Board of Trustees
 The basic function of the Board is building and ensuring the integrity of the BAME awards by ascertaining the integrity and reputation of BAME Awards nominees.
The Board conducts a thorough check on the integrity, reputation and background of ALL the BAME Awards nominees recommended to the Board by its Executive Director, and then selects/ approves ONLY the suitable nominees for the Awards.
ROLL CALL OF BAME AWARDS RECIPIENTS SINCE 2021
CHRISTIAN MUSIC 
Rev. Joseph Adelakun
Mrs. Deborah Fasoyin
Evang. Grace Oladimeji
Pastor Aity Inyang
CHRISTIAN CHARITY 
Evang. Elishamma Ideh (Christ the Ever Present Ministry, CTEM)
Rev. Mrs. Dele George (Little Saints Orphanage)
Evang. Mrs. Blessing Jibuike (Support Missionary Agency, SUMA)
Mrs. Taiwo Olowoyeye (Bethlehem Orphanage)
Mrs. Taiwo Aiyeleso (Widows Rehab, Ilorin)
Mrs. Gift John (The Good Shepherd Orphanage)
Rev. Martha Ndu (People Living with HIV Rehab)
Evang. Chinyere Ike (Widows Empowerment Ministry)
Bishop Kayode Williams (Prisons Rehabilitation Ministry, PREMI)
Mrs. Agatha Chukwura (Gold Crest Charity Organization)
Pastor Ronke Adekoya
Rev. Ladi Thompson (Macedonia Initiative)
Rev. Israel Ayanwale (Field Missionary/ Missionary trainer)
Mrs. Omolaja Adedoyin (Heart of Gold Hospice)
CHRISTIAN ENTREPRENEURSHIP 
Dr. Sunny Ojeagbase (Complete Sports)
Chairman & CEO Ray paints
Evang. Lekan Ajao
Pastor Ajani Olutade (Funtade Travels)
Dr. Samson Makinwa (Techo group)
Dr. Mathew Sobiye (Mathmer Group)
Dr. Olumide Emmanuel (Common Sense Group)
CHRISTIAN SERVICE
Rev. Yeside Staveley
Bishop Abiodun Olugbenro
Rev. Tony Akinyemi
Prophet Peter Olowoporoku
Bishop Moses Oba-ladele
Rev. Dr. David Adetiloye
Pastor Ayo Ayolola
Prophet T.A Aboluwarin
Prof. Charles Ohiku
Bishop Mary Ajisafe
Dr. James Akanbi
Prophetess Margret Adebayo
Evang. Deborah Abosede
Apostle Friday Idawor
Mr. Lekan Otufodunrin
Mrs. Tokunbo Bankole (UK)
Primate Babatunde Ayodele
Prophet Olorunfemi Ejide
Evang. Olukemi Togun
Rev. Mrs. Mercy Sobiye
Bishop Emeka Odigbo
Bishop Chidi Anthony
Pastor Taiye Olayemi
Prophet Ayo Adegbuleru
Apostle Mrs. Amuwo Odofin
CHRISTIAN DRAMA
Kolade Segun Okeowo
CHRISTIAN LITERATURE
GSAF Devotional
Pastor Yinka Amu (Highway Tracts Ministry)
Pastor John O. Alabi
BAME AMBASSADORS AWARDS
Deacon Stephen Olarinde
Dr. Tessie Shorunmu
Dr. Kunle Ogedengbe
Mr. Sunday Fadipe
Mr. Kunle Adedeji
Evang. Nath Berenugo (Praise Machine)
 Evang. Edith Ukasanya (Christian Charity)
 Rev. Mrs. Nwachukwu (Christian service)