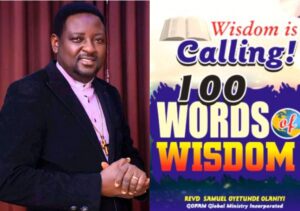 Rev. Samuel Olaniyi, President/Founder of Go and Preach to All Mankind Mission (GOPAM), Oyo, Oyo state, recently released a book, Wisdom is Calling! 100 Words of Wisdom, aimed to encourage people overcome the various challenges of life in the present days. He takes Christian Benefits in the below interview through the content and purpose of the inspirational book. Excerpts
Please, can we meet you sir?
I am Rev. Samuel Oyetunde Olaniyi, a general evangelist and missionary to cities with an apostolic grace. I am the President/Founder of Go and Preach to All Mankind (GOPAM) mission with mission stations in some major cities and towns across Nigeria. I am also the Proprietor of Global Leaders Academy, based in the city of Oyo. I have been pastoring for over two decades to the glory of God. I am a man of wisdom and a prophet to the core. I am a minister of the gospel of miracles, signs, wonders and accurate prophecies. I am happily married to Rev. Mrs. Oluwatoyin Olaniyi. Our marriage is blessed with children.
What is the book you recently released all about?
The book is a collation of my inspired quotes of wisdom published to bless and inspire people from all walks of life regardless of religious persuasions. The inspired words or quotes of wisdom in the book are good in our daily activities. They revitalize and induce hope and courage to face all the challenges of life.
Share with us the inspiration behind the publication of the book
I'm always prophetically inspired to send out each day words of wisdom most times after speaking in the Holy Ghost for about four hours daily by God's grace. I often convey those inspired quotes of wisdom to the world through the various social media platforms as your publisher (of Christian Benefits) can attest.
What is the aim of the book?
The aim of the book is primarily to encourage and strengthen people who do not see hope ahead of them any longer, to make them realize that human beings sometimes make problems out of no problems. The book helps in repositioning us, our perspectives and approaches to life and its challenges, and with the aim of overcoming and scaling through those challenges afterwards.
How can readers apply the books to their spiritual and physical growth?
Readers who are spurred into action and inspired by daily meditation on these wisdom nuggets would be propelled to swing into the right actions and steps immediately after daily or occasional reading of the book. It also requires the help of God to decode some of the wisdom in the book as a couple of them are highly proverbial. I pray God will give the readers understanding in Jesus name.
How available and affordable is the book to interested buyers or readers?
The book is quite available. It can be delivered at the door steps of prospective buyers and readers anywhere across the globe by God's grace and with the help of modern day technology.  Interested buyers and readers can also  contact our secretariat for as many copies as they want through these following phone numbers 08034405935, 0805973497, or visit GOPAM Global Ministries headquarters, Melagro, Araromi Oyo or any major bookshop in some major cities across Nigeria.