Hair turns grey with age, making grey the colour of experience and wisdom. Led by Prelate Emeritus of the Methodist Church in Nigeria, a group of Christian Elders have given the service of their wisdom to the Nation on Nigeria's Election in February 2023.
His Eminence, Most Rev'd Sunday Ola Makinde who is looking forward to his 80th birthday this year, was joined on the table for the briefing by the Chairman of the group, Rev Adegbolagun Aderibigbe, National Secretary, Rev Dr JB Odofin, the first pastor of Decross Gospel Church and Emeritus Secretary of The ECWA Church Southern Council. Also on the table was Prof Dapo Asaju, Bishop Theologian of the Anglican Church in Nigeria.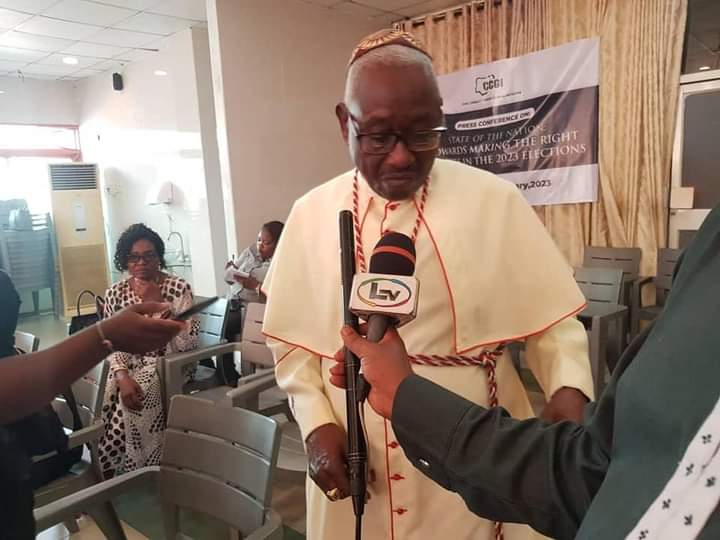 His Eminence, Most Rev'd Sunday Ola Makinde
Civic Consciousness Global Initiative (CCGI) at their press conference held Today, the 31st day of January 2023, just under 24 days to Nigeria's Presidential election holding on the 25th of February 2023.
CCGI at the press conference reiterated how they rose from their January 17, 2023 meeting with a burden to counsel and warn the Nigerian Nation towards the coming election.
On The State of the Nation
CCGI opined that Nigeria is currently passing through the worst curve of her evolution as a nation. Nigeria they said have had unprecedented escalation of our challenges: economic downturn, profligacy of our scarce finances by government agencies and persons, massive corruption, debilitating foreign debt burden to the tune of about 77 trillion as well as slush funds of almost same magnitude, inflation, unemployment, ethnic cleansing, collapsed moral, spiritual and educational standards, religious fanaticism domination, terrorism, massacre of innocent citizens, destruction of village settlements, displacement of millions of people (many of whom are in Internally displaced persons camps), unchecked violence by religious and ethnic militias, general failure of governance at all levels, suspected  infiltration of our Security authorities, unregulated prices of petroleum products; leading to its inflation and scarcity, political uncertainty, fielding of compromised, aged, sick and corrupt politicians, etc.
Our younger generation and professionals who ought to develop the country are fleeing their homeland massively to overseas in order to seek safer and greener pastures. All these combined ills have clearly made Nigeria to become a failed nation.  These have combined to threaten our nationhood and put the hopes of present and upcoming generations of Nigerians in great jeopardy. This is further complicated by lack of creative and pragmatic leadership. This is what is most needed now, not pandering to the whims and caprices of rich politicians who have had opportunities of leadership positions in the past but failed, rather offering us little or nothing positively to fix the many problems of the country .
In the press statement, CCGI further stated; "As we approach the next elections in a few weeks from now, it appears that many Nigerians are not alarmed by the aforementioned precarious woes of the country and they still carry on with attitude of nonchalant, frivolity, praise singing, bribing electorates, hiring crowds at campaign rallies, dancing on stage, use of gutter languages as they attack each other instead of discussing pragmatic ideas that will solve Nigeria's problems. People are campaigning for same politicians who participated actively in ruining this country and who are suspected to be active culprits and agents in bringing the nation to its knees in all indices of our failure and current maladies. Politicians carry on with entitlement mentality as if the nation's leadership is their birthright. The Church leaders themselves have not mobilized to defend the interest of the church which has suffered unimaginably from persecutions and wanton killing of its members and pastors. The more recent being the burning to death of a Roman Catholic Church Rev'd Father, Isaac Achi in Niger State.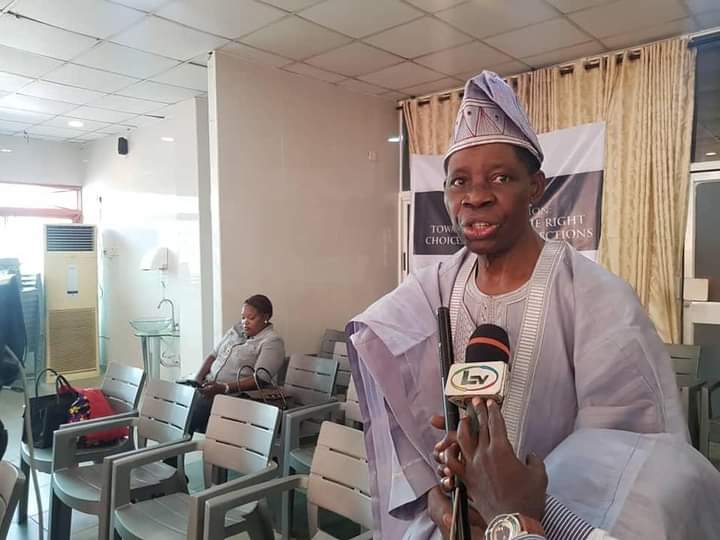 Rev Adegbolagun Aderibigbe, Chairman, Civic Consciousness Global Initiative (CCGI) 
Although, the Christian Association of Nigeria has taken its stand on the forthcoming elections, we as a body of concerned elders of the Church find it expedient to amplify this position by advising Nigerians in general and Christians in particular to be very careful not to make mistake of choices that will completely destroy our lives, constitutional rights and survival as a nation.
No doubt, the Nation has been going through a lot of chastisement from the Lord for lack of love, insincerity, extreme religious intolerance and expressed hatred for people of other faith. This is heating up the polity as we are approaching the boiling point. Kidnappings and killings have continued  in parts of the country while the government have not been able to check these neither have most of the perpetrators been brought to justice. As it stands, Nigeria is fast regressing to a state of complete Islamization, with Muslims dominating majority of all major sectors of governance: Executive, Legislature and Judiciary. Same applies to almost all security departments, military and para-military. Same dominance is by one ethnic group in Nigeria. The configuration and postulation in the coming elections suggest a direct or indirect perpetuation of this anomalous political dominance. This must change. Nigeria belongs to all Nigerians and no tribe will internally colonize others by the grace of God. Nigeria belongs to the youthful population who are the leaders of tomorrow. They must at this time be enabled to rise to leadership and also be enabled to exercise their franchise in choosing good leaders at the next elections.
We are most worried about the killings in Nigeria. Innocent blood of people are continuously being shed with impunity and our security agencies appear not to be able to protect us anymore, failing in the primary responsibility of a government. We are worried that this state of anarchy may worsen and it may become most difficult to practice one's faith and live in one's community safely if we make the grave mistake of choosing and enthroning   evil-intentioned leaders at the next elections. To give and take life is the prerogative of God, not man. When man does, justice must speak in judgment of the killers. Blood of countless people cry against Nigeria and unless we stop this madness and arrest this pogrom, Armageddon may be near to the nation.
BROKEN TRUST
Trust is broken and the government has lost it with the people. Our hope of rebuilding the nation lies in our ability to rebuild trust. With all these burden and the unabated killings of innocent citizens, with men of God as targets and invasions of worshiping communities to kill, steal and destroy according to the threefold mission of the Devil (John 10:10) clearly manifested in our nation, yet marching on to 'election 2023′ has compelled us to speak out! This, for us is the Elders' warning and counsel!
Our Advice on the 2023 Election:
Bearing in mind the rights of eligible individuals as granted by the constitution of the federal republic of Nigeria 1999 as amended to vote and be voted for without coercion, undue inducement, we balance this with our Divine Mandate as keepers of God's estate and as shepherds who must guard and guide the sheep of God on the right decision to make.
We resolved to address the Nation to take caution knowing full well that their life from the election day would be based on the choices they make with their PVCs in exercising their franchise come 25th February by the grace of God.
 VOTING APATHY
This particular voting is very crucial for all citizens of this nation and we must all come out in large numbers and should never allow apathy to deny us of making our choice of leadership in the next dispensation. The election should be conducted peacefully, fair and free with the fear of God in our hearts. Do not encourage selling and buying of votes in whatever disguises. Note very well that, the result would be based on the number of valid votes cast. If only ten voted, result would be based on ten. It is therefore important to add your vote to the number of your preferred candidates to emerge at the end. Your One Vote counts only if you cast it.
CCGI hereby advises the electorates especially the youths to cautiously consider candidates' track records on how they fared: on integrity scale, justice for all, on corruption index, freedom of religion, commitment to secularity of the state, obedience to court rulings and provision of security to all in every part of the nation. They must watch out for leaders whose body languages are suggestive of division of the country to nations of the South or of the North and must deny such, their votes!
THE FUEL SCARCITY: ILL-TIMED!
The history of fuel scarcity for whatever reason has shown that most leaders in the corridors of power know how to inflict hardship on the populace and whip poor citizens to submission making them accept their fate. The poor masses are the only ones hard hit.
This is not the right time to play the politics of fuel for which the nation is blessed with its raw deposit. The current government shouldn't add more to the catalogues of woe she would be remembered for after their exit. It is ill timed!
THE NEW CURRENCY POLICY
Good as the new currency policy may be, it has been hastily effected without the poor masses' plight in mind. The system that knows it is dealing with the lives of over 200milion souls scattered all over divers environments, most of which are not adequately banked, and coupled with scarcity of fuel for mobility are all expected to comply with directives. Not many banks have access to the new currency as the banks still pay out in old currency as at the time of writing this address.
The government should suspend the currency politics and address the issue of small scale traders and the daily earning business man who turnover is much more than the approved #20,000.00 daily withdrawal.
This government is on its way out, but will be remembered in the anal of history as a government that knew it wouldn't have to beg for the masses vote again and so treated them as no useful entity. Redeem the image within the leftover time!
POOR GETTING POORER 
The coming government should take the plights of the poor passionately and change the old sayings that 'the poor are getting poorer and the rich are getting richer' at the expense of the poor masses.
ONE NATION FOR ALL
There is only one nation Nigeria, with 'one rule' we believe. Mischief makers who are canvassing for votes in our churches on the basis of tribal affinity must be marked as those who cause divisions among us and avoid them with your PVC. The church of Christ in Nigeria is one irrespective of our denominations and tribes. "They that believe had all things in common, according to the book of Acts of the Apostles. It is time for us as the Church; Southwest, Southeast, South-south, North-central, North-west and North-east to speak with one voice and face same direction; of justice, equity and fairness!
NOTHING NEW BUT EMPHASIS PROFITABLE FOR WARNING!
The group noted that there's nothing new that have not been said by concerned leaders of thought but as a last warning to the nation inching towards the election, we feel obligated from our divine roles to counsel her, peradventure God will show mercy and lead us alright!
CONCLUSION
"Again the word of the LORD came unto me, saying, Son of man, speak to the children of your people, and say unto them, When I bring the sword upon a land, if the people of the land take a man of their coasts, and set him for their 'watchman': If when he sees the sword come upon the land, he blows the trumpet, and warn the people; then whosoever hears the sound of the trumpet, and takes no warning; if the sword come, and take him away, his blood shall be upon his own head…" (Ezekiel 33:1-5). CCGI as Elders have spoken the mind of God. Peace to our nation and thanks for your attention.
Long Live the Federal Republic of Nigeria!
Long live CCGI