Bishop Dr. Abiodun Akinteye, Presiding Bishop of Chapel of Grace Ministries, Ogun state has revealed other conditions that believers need to make their salvation complete. He explains the place of sanctification in the lives of believers and the hindrance of sin as he shares in this interview with Christian Benefits the expectations from the Church's Grace Convention that promises victory over issues of life at the convention starting from October 2-9, 2022. Excerpts.
 Please, can we meet you sir?
I'm Bishop Dr. Abiodun Akinteye, Presiding Bishop of Chapel of Grace Ministries, Temidire, Sango-Ota Ogun State. The ministry started and was inaugurated in 2000 by two of Nigeria's foremost gospel ministers, the now late Archbishop Dr. Olanrewaju Obembe and my father in the Lord, Bishop Dr. Taiwo Akinola.
Can we have a look at your background before the call?
I came from a humble background. I was born on December 25, 1962. I was doing fine in a secular work as sales manager with an official car. My income was not too fat then but with the fringe benefits it was enough to take good care of my family. When I received the call of God in 1994. I tendered a resignation letter. Before the call, I had already got born again in a bus in 1982 from the preaching of one elderly woman. The power of the Holy Spirit came upon me and I wept. Immediately after this encounter, I started attending the Bible Study of Youths for Christ Evangelical Ministry (now Truth for Christ Ministry), Abule Egba, Lagos. In that ministry, I became Sunday school teacher from 1982 till I became pastor in 1984. Since then I have been a pastor.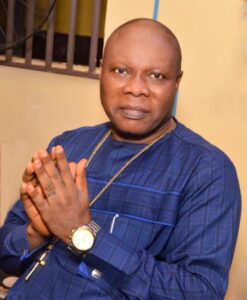 Bishop Dr. Abiodun Akinteye
When you got the call, what was the mandate given to you of God?
Before my encounter, I always condemned those who claimed that God called them as lazy people until God arrested me and said to me, "My son, go preach the word of grace for the greatness of my people," and he backed it with Acts 4:33. Initially, I didn't yield to the call until I lost my peace and became very lean. I retreated before the Lord in prayer for the 31 days of May 2000. I thank God for my wife. She is indeed a daughter of Zion. During the retreat, I got the clarity of the vision but was still rationalizing it until I had an accident where I found myself on the car booth that still remains a mystery to me. I was rushed to a hospital. I was angry with God why He allowed the accident despise using me for people. And the Lord said it was because of my disobedience to His call but assured I won't die. I was on admission in the hospital for five days. On the fifth day after many treatments and check-ups without improvement I finally surrendered to God to use me. With that decision, the pains disappeared and I was discharged from the hospital. I was the director of media & publicity and a member of the supreme body of the church at Abule Egba before I tendered resignation letter, handed over the church property and honorably left the church. I didn't take anything away from that church.
 What are some of the gifting God endowed you to fulfill this mandate?
I am a man of prayer. I encourage people to pray with the help of the spirit. As a young man I belonged to a group of friends who locked themselves in uncompleted buildings seeking God's face earnestly. God endowed me with the gift of tongue interpretation. Many believers don't understand that after getting born again (being at Calvary) you must proceed to the Pentecost where the power comes upon you to touch lives. There are three levels of grace: salvation, sanctification and baptism in the Holy Ghost, which is missing in the body of Christ today. The evidence of the power of Pentecost is speaking in tongues. God does not break His standard. I believe in prayer, prosperity, healing, miracle and breakthrough, but above all, I believe in the balanced work of grace that makes God's people great. It's not by grade but grace. Grade disqualifies while grace empowers. Grace is more reliable.
What are some of the church programmes in line with its mandate?
We hold a yearly event,"Grace Convention." The theme of this year's convention is "Victory" starting Sunday October 2nd-Sunday 9th, 2022. We are believing God for victory over sin, poverty, fear, uncertainty and difficulties etc in the lives of the participants at the convention. Sin, particularly, is a major hindrance to fulfillment in life. The aim of this year's convention is to get people to the point of salvation. Until people come to this point it will be impossible for them to access this victory.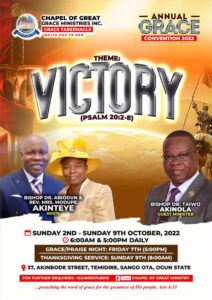 Please, share with us some testimonies from the past Grace Convention of the church
We have many testimonies of those that had waited on the Lord for 10-15 years blessed with the fruit of the womb. We have testimonies of deliverance of people that excreted cowries and palm kernels. There are several testimonies of healing, breakthrough, salvation and restoration all to the glory of God.
No doubt Chapel of Grace Ministries radiates God's glory. Will you please share with us some of the pains behind the glory of this fast growing church?
It's a normal to go through the process of pains before the gains. Whoever is not ready to go through pains should stay away from ministry. People celebrate the glory but are oblivious of the sufferings. Pains are the pillars of ministerial glory. We just pray the pains will not consume us before the glory manifests.
What is your source of encouragement at the moments of pains in ministry?
 It is not unusual that at some points one will doubt one's calling in the face of some challenges in ministry, yet one will not quit the ministry. It is only if your call is not genuine that you will quit the ministry due to problems. Pains are bridges one must cross to get to the side of the gains. When you get to the moments of pains and sufferings you must be strong not to go back. Instead, you go back to God.
Please tell us more about your lovely wife and her role in your ministry
I thank God for my wife, Rev. Mrs. Modupe Akinteye. She is a precious gift to me to the glory of God. She spent about three years in Faith Theological School. My wife is a daughter of a former district overseer in Christ Apostolic Church (C.A.C). She was born into a household of faith and knows the importance of prayer. She has been a very strong pillar in my ministry. She is a woman of patience. She has inculcated the right things and values; even in the lives of our biological children.
Who are those you look up to as your mentors or role models in ministry?
I deeply respect Bishop Dr. Taiwo Akinola as my sole mentor and father in the Lord. I've known him for close to 30 years. While I was a branch pastor in my former church he never looked down on me. Whenever we invited him for ministrations, he would find a way to come.  Over the years, the grace of God upon his life has been rubbing off me and a couple of other ministers that submit to him.
How is like starting and running a church in Sango-Ota, Ogun state?
It takes the grace of God to run a church successfully anywhere. At the time I was posted to Sango in 1995 not every church could organize a vigil here. You have to be sure of your calling to survive in this environment. To be relevant in ministry, you have to get yourself prepared to meet the needs of the people in your areas.
How much are you fulfilled in ministry at the expense of quitting your promising secular career for full time ministry; have you any regret?
I don't have any regret coming into full-time ministry. As much as I've attained some levels of heights I'm still pressing. We steadfastly wait upon the Lord to keep us moving. The more we have genuine ministers of God, the better. By the grace of God, we hope to break more grounds and keep raising God-fearing members.