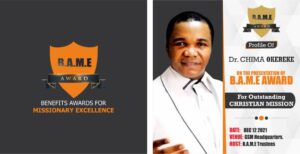 The last lap of the 2021 Benefits Awards for Missionary Excellence (BAME) presentation to distinguished ministers of God comes up this Sunday December 12, 2021 at Global Success Ministries (GSM) Amuwo Odofin, Lagos as Dr. Chima Emmanuel Okereke, the GSM general Overseer receives the prestigious BAME honor.
Dr. Chima Emmanuel Okereke will be presented with the 2021 BAME Award for Christian Service in recognition of his outstanding achievements in the promotion of the gospel as General Overseer of Global Success Ministries and Founder/President of Success Television (STV); one of Nigeria's foremost/leading Christian television channels.
Dr. Okereke is the last of the outstanding servants of God shortlist for the 2021 BAME Awards for their excellent exploits in ministry. Due to the uncertainty over the COVID-19 restrictions, the 2021 BAME Award presentation to the shortlist ministers could not hold on the same day as usual practice of the award organizers.
 Accordingly, Dr. Olumide Emmanuel, General Overseer, of Calvary Bible Church, Idimu, Pastor Taiye Olayemi, General Overseer of Ever Increasing Anointing Ministries, and Rev. Ben Eragbai, General Overseer of Divine Appointment Ministry, were the previous recipients of the 2021 BAME Awards before Dr. Okereke, General Overseer of  Global Success Ministries takes the last lap.
 Bishop Dr. Tom Samson, General Overseer of Christ Royal Church was also among the shortlist ministers for the 2021 BAME Award. Due to 2021 December annual programme of Christ Royal Church on the scheduled date for the BAME award presentation to the Bishop the event has been put on hold till further notice.
 Below is the Profile of Dr. Chima Okereke as he takes the last lap of 2021 BAME Award

Dr. Chima Emmanuel Okereke is the President of SFVI and African Development Movement, a Charity Organization – www.africandevelopment.org, General Overseer of Global Success for All in Christ Int'l established in April 1998 in a very small room. "A tiny drop of water they say makes a mighty ocean." Suffice it to say that the little gathering which started with a woman has today metamorphosed into a teeming population of approximately fifty thousand members across the globe and under the auspices of the Holy Spirit; the name has currently been changed to Global Success Ministries.
Dr. Chima Emmanuel Okereke was born on December 10th 1973 at University of Nigeria Teaching Hospital (UNTH), Enugu and hails from Awa in Oguta Local Government Area of Imo State, Nigeria. He was born into a Catholic family comprising of seven children. He is the fourth issue and the first male of the family. He is a fair-complexioned, slim and tall young man of about 5ft and some inches. At the age of 34, he has achieved quite a lot; far above his contemporaries. He is excellence personified. Mediocrity is never in his dictionary. Thus, he pursued his first degree course at the University of Lagos (UNILAG) and proved himself again to be an "Intelligentsia" with high IQ. He is just a personality you would love to know. To God be all Glory and honour.
His calling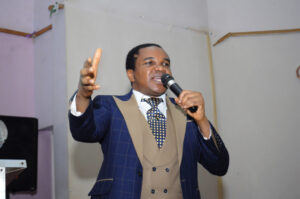 Dr. Okereke has proved himself to be a man of God with an intensive Prophetic inclination. He is an undiluted Prophet, Teacher and deliverance minister. The mystery surrounding his conception and birth till date remains awesome and proves him to be a "Chosen Vessel." His mother looked for a male issue for a very long time. God visited her and she conceived. During her pregnancy, an unknown soldier walked up to her from nowhere and told her that she would bear a son and his name shall be called "Emmanuel". Afterwards, the man mysteriously disappeared and till date, nobody could tell who he is and where he came from.
Dr. Okereke's vision is a global vision to see the fulfillment of the mandate of Christ our Lord and Saviour; "That this Gospel of the Kingdom shall be preached in all the Nations of the World before the end will come," according to Mathew 24:14.
His Awards
*University Merit Award from Philosophy Students of UNILAG (2003)
*Fellow Chaplain" of Chaplain Fellowship of Nig. Inc. (2005)
*OLGATUA Merit Award (2005)
* Doctorate degree in Business Admin.: Pilgrims University, North Carolina (April 28th 2006)
*Award of Excellence from "Vision Africa" print media (2006)
*Nigerian Religious Leadership Merit Award, USA (19th May 2007)
*Society Service Award: Nigerian Union of Journalist, Enugu (12th October 2007)
* Universal Legendary Achievers Merit wards (ULAMA) 2008: Top Lead Media Communications Company (publishers of Nigerian Top leaders Magazine), Ikeja, Lagos (19th April, 2008)
* Chaplain General: GIPEC College of Chaplaincy Inc., Ikoyi, Lagos (9th June, 2008)
* Patriotic Achievers' Award (12th Edition): Franolly Incorporated (9th July, 2008)
* The Preacher's News Merit Award (5th July 2009) * The Institute of Administrators and Researchers of Nigeria, University Conference Centre Lagos.
* Prestigious Fellowship Award (22nd October 2010) and many more.
HIS Acknowledgement
Bro. Chima Emmanuel Okereke is an indefatigable worker with numerous Charisma. He is an optimist to the core, a great philanthropist who is interested in putting smiles on the lips of the hopeless. Consequently, he established a welfare department through which he has helped many; widows, orphans, the poor, the wretched and the destitute in cash or in kind. He has also used his various spiritual gifts to give life to many; God has used him to heal several incurable diseases which include HIV/AIDS, liver and kidney diseases, making the dead to rise and the blind to see. He healed a little boy who was crippled for 9 years and separated the Siamese twins in their mother's womb and reversed their transverse position in the womb to normalcy. Today, the woman is a happy mother of those twin babies. A striking miracle; what the white doctors could not achieve with their sophisticated medical equipment, the man of God achieved in a twinkle of an eye through a spiritual operation. The story has been making the round in Media houses including print and electronic media.

His Achievements
* Acquisition of his dream "Promise Land" which runs into millions
* Establishment of branches of Global Success Ministries in; Abuja, Port Harcourt, Lagos, Warri, Nnewi, Benin City, Kano, Onitsha Anambra State, Cotonu, Owerri, Ututu Abia State, Umuahia, Spain, U.S.A, London, South Africa, Israel, Liberia and so on. Soonest, we will witness an explosion of branches all over Nigeria and beyond.
* He has ministered alongside great International men of God in many foreign countries.